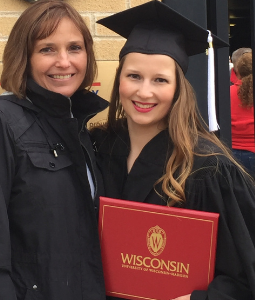 Alumni Profile: Sarina Strnad '16
Degree(s): BA Psychology, UW–Madison; MS Academic Advising, Kansas State
Current Occupation: Undergraduate Service Specialist at UW-Madison Chemistry Department
What are some of the benefits of your psychology degree?
I've learned patience and understanding with this degree. I've learned to always try to understand how much culture, socialization, nature, nurture, and many other factors shape the way we behave, think, and feel, and how they've shaped who we were and might become. The psychology degree has taught me to appreciate the uniqueness of others and how beautifully complex and interconnected our world is.

How did you find your way to your current profession?
I started off as a legal assistant the summer after graduating from undergrad. The position came through a networking connection but I found working with clients was a good way to use some of the skills and strengths that came natural to me. I used my education in psychology to guide clients through difficult times in their lives. After a few years, I decided the legal world was not for me and began my master's in academic advising as I knew I wanted to give back to and work with college students as it's such an exciting and formidable time in an individual's life. A position in the Chemistry Dept. opened up at UW and I now assist in running the undergraduate office which has been excellent experience in combination with my master's program as I'm able to apply the things I've learned and am now learning when working with students. I graduate with my master's in December 2021 and plan to begin the job search for advising positions then.

What advice would you give to students graduating with a psychology degree?
Use the broadness of the psychology degree to your advantage and take the time to relate the material to your own self-awareness and understanding. The sooner you can understand your values, abilities, and strengths, the better off you are to find a career path and life satisfying for you. There is no better academic major for self-reflection than the psychology major. Finally, you were likely drawn to psychology because of your desire to help other people. Empathy and understanding are not things all people are capable of so use this education and your natural strengths to your advantage.
If interested, please list an identity or group membership of which you are particularly proud: 
First gen student