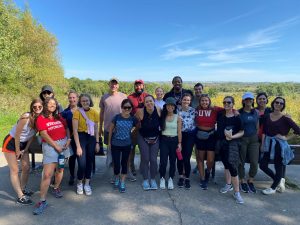 The Department of Psychology is committed to creating an environment in which all students, staff, and faculty are treated with respect and feel included regardless of race, ethnicity, sexual orientation, gender identity, sex, age, religious beliefs, socioeconomic status, or ability. We also believe in the need to provide equitable opportunity for individuals from marginalized and underrepresented backgrounds. As a department, we stand in solidarity with all of our Black students, faculty, staff, and alumni. We invite you to read our Black Lives Matter statement below.
We are committed to creating and maintaining a positive and safe working environment. We expect all members of our department to treat one another professionally and with respect, both on and off campus. Sexual misconduct, acts of bias, and acts of hate violate our standards and expectations and have no place in the department.
"We believe that the pursuit of equity, diversity and inclusion is a moral obligation and is essential to living our values, achieving our goals and building a stronger Department. We are committed to diversity both as an end in itself, and also because we are convinced that it helps us achieve our main goals, namely maximizing student learning, generating cutting-edge research, training the next generation of scientists, and serving our communities." — Chair of the Department of Psychology
Black Lives Matter statement
The murders of George Floyd, Breonna Taylor, and Ahmaud Arbery, among too many others, have brought into sharp relief ongoing systemic racism in our nation. We condemn these hateful acts of violence in all forms. As a department, we stand in solidarity with all of our Black students, faculty, staff, and alumni: Black Lives Matter. We also acknowledge the historical marginalization, systemic racism, and inequitable privilege that has been maintained through systems of power, including academia.
"It is certain, in any case, that ignorance, allied with power, is the most ferocious enemy justice can have." — James Baldwin
We pledge to look at ourselves and our profession in order to understand the biases that exist within academic settings, including our own department, and to ask what we can do as individuals and within our professional community to mitigate systemic biases, increase the diversity of our community, and foster opportunities for Black members of our community to thrive and succeed. We also pledge to continuously engage in action for a more equitable department and academia as a whole.