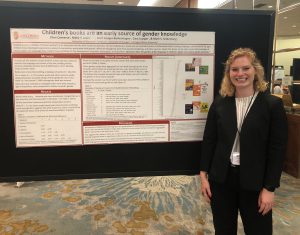 Edgerton native Ellen Converse '19 always knew she wanted to attend the University of Wisconsin–Madison, but was less sure of what major she wanted to pursue – until she took Human Sexuality: Social and Psychological Issues, followed by Honors Cultural Psychology with Dr. Yuri Miyamoto.
"I loved that the classes were very interdisciplinary; psychology was something I could hold onto even when my interests were shifting."
At the end of Converse's freshman year, Dr. Miyamoto invited students to apply to work in her Culture & Cognition Lab. Converse jumped at the opportunity. In the small lab, she had an opportunity to take part in many studies, including one particularly memorable one where she served as a confederate, speaking with participants over Skype and acting as if the connection were breaking. "I was not a very good actor," Converse added, laughing. "But I gained incredible experience of the research process from start to finish."
"With Ellen's brilliance and high sense of responsibility, she made vital contributions to a wide range of projects in our lab," said Miyamoto.
In the spring of 2019, Miyamoto nominated Converse for the Outstanding Undergraduate Research Scholar Award. The award is given by former senior lecturer Dr. Bryan Hendricks, valued colleague and beloved professor in the UW-Madison Department of Psychology from 2005 until his retirement in 2012. Through the creation of this fund, he wished to reward outstanding full-time undergraduate psychology majors for their contributions to the research labs in the Psychology department.
The $1000 award will make a big difference for Converse as she moves to the Pacific Northwest this fall to take a position as a securities operations associate at an investment firm in Washington.
"[Studying psychology] has given me a breadth of different skills," Converse shared, from critical thinking to succinctly presenting research. And that hands-on experience with statistical software in Dr. Miyamoto's lab is sure to be an asset as Converse begins her new career in data analytics this fall.