In the introduction to each episode of the podcast "2 Moms No Fluff," Alma Schneider '90 states, "prepare to laugh, cry, and hopefully learn something new."
Schneider partnered with a friend and fellow mother, Iris Mehler, to start the podcast that helps parents of children with disabilities in January 2022.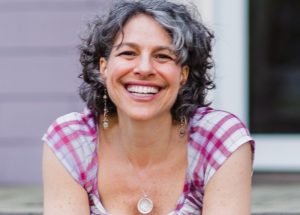 "We want families to feel less isolated and more supported and empowered to become advocates for their children," Schneider says. "We want the allies of the disability community, including healthcare workers, teachers, employers to learn what can be done to be more inclusive and sensitive to the needs of families with disabilities."
Schneider's third child was born with a rare genetic condition called Prader Willi Syndrome in 2004.
When her son was 6 years old, Schneider started a social group out of her kitchen for parents from his pre-school for children with disabilities.
"I was devastated and felt completely isolated and in need of a community where people truly understood what having a child with a disability was like, people with whom I could relate," Schneider says. "The group turned into a social and emotional support group, as well as a place to network and share much needed resources."
Schneider and Mehler also decided to start a podcast to reach and support families everywhere and not only in Schneider's town of Montclair, NJ.
Schneider is a Licensed Clinical Social Worker. Mehler is a Certified Rehabilitation Counselor and a mother to a daughter with Cerebral Palsy.
In the introduction to each episode, Mehler explains that "2 Moms No Fluff" discusses "the uncensored truth about raising kids with disabilities."
Schneider and Mehler record episodes over Zoom and discuss nearly everything related to raising children with disabilities. Episodes have covered topics including getting a new diagnosis, their experiences being out in the community with their children, and how to find services and be a disability activist.
"We try to disclose our raw, personal experiences as well as provide practical strategies to deal with the complexities of our lives," Schneider says.
The podcast is available on Spotify, Apple Podcasts, and iTunes and with closed captioning on YouTube.
Since starting the podcast, Schneider and Mehler have further realized the need for 'no fluff' in conversations about raising children with disabilities.
"We have learned what a great need there is for support and for people to engage in raw, honest conversations about what our journey is like," Schneider says. "We have also learned that most listeners truly want to help but simply don't know how. It is very gratifying for us to give them the tools to assist their clients, patients and family members as best they can."
During her time at UW as a psychology major, Schneider was a research assistant to Dr. Lyn Abramson, who was researching cognitive behavioral therapy treatments.
Schneider worked with psychiatric patients with depression and schizophrenia and administered mood questionnaires.
"This experience gave me an inside view of psychiatric in-patient hospitals and institutions in the 1980s which left its mark on me," Schneider says.
Schneider says she also often thinks back to her human sexuality psychology class with Dr. Janet Hyde.
"I felt more prepared for client work and raising my own children after learning about trans culture, sexual orientation and sexually transmitted diseases," Schneider says.
After Schneider graduated from UW in 1990, she completed a Master of Social Work at Hunter College in New York City.
As a Licensed Clinical Social Worker, Schneider's work has involved teens, seniors, immigrants, settlement houses, Planned Parenthood, in-patient psychiatric units in hospitals, employee assistance programs, and crisis and trauma work after the 9/11 attacks.
"Studying psychology, especially social psychology classes I took, gave me a solid foundation for all the work that I currently do," Schneider says.
"2 Moms No Fluff" is one of multiple ventures Schneider has started. Schneider started Parents Who Rock, a music non-profit that raises money for local charities through concerts, in 2005. Schneider also started Take Back the Kitchen, a consulting business where she helps people identify and overcome practical and psychological obstacles to cooking, in 2008.
In addition to their podcast, Schenider and Mehler provide virtual and in-person presentations to hospital staff, companies, and non-profit organizations on how to be inclusive with the families of children with disabilities. Schneider and Mehler can be reached at info@2momsnofluff.com or on their website.
Written by Sara Stanislawski