Bias in individuals and social systems is a key contributor to inequalities in nearly every social domain.  With the recent attention and energy in social movements in gender, racial, and ethnic justice, there is a clear opportunity to make lasting social and institutional changes. Research shows, however, that though well-intentioned, most efforts to reduce bias at best do not work and very often make bias problems worse.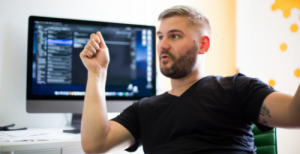 "This happens because many efforts are based on intuition and common sense, rather than scientifically valid models of cognitive and behavioral change," says Dr. William Cox, assistant scientist in the University of Wisconsin­–Madison's Department of Psychology and Principal Investigator of the Cox Stereotyping and Bias Research Lab.
So what does work? Building on Professor Patricia Devine's model of intergroup biases as habits of mind, Devine along with Cox (a former graduate student of Devine's) and other colleagues, developed the first and only intervention shown experimentally to produce long-term changes in bias and improvements in inclusion and equity. The approach conceptualizes reducing biases as breaking prejudice habits. Randomized-controlled trials have shown that, compared to controls, bias habit-breaking training recipients:
are more aware of their potential to express bias
are more concerned about racial bias as a serious problem
have lower levels of measured implicit bias
stereotype less
are better able to identify and correct biases in themselves, in others, and in social systems
create more inclusive environments
are 65% more likely to publicly speak up against bias
elaborate and discuss bias/inequity 181% more
hire 42% more members of underrepresented groups
teach others about bias and inequity
These effects last up to three years at least. 
"We are trying to broadly disseminate our proven training approach, equipping social movements and institutions across the nation with evidence-based tools to create lasting change, creating ongoing engagement content, and building a community around the training's concepts," says Cox. "By expanding the implementation of our proven approach and empowering more people as agents of change, we will help make broad, lasting impacts on bias and inequity."
To learn more, or to request a training with Dr. Cox, go to biashabit.com.
Dr. Devine can also be reached for trainings at devinelab.psych.wisc.edu.