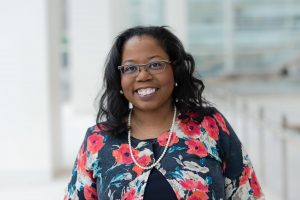 At its June 28, 2022 meeting, the Board of Directors of the
National Alliance on Mental Illness (NAMI)-Dane County unanimously
elected Dr. Diane C. Gooding as its Chair, replacing outgoing Amanda Pirt Meyer. Gooding previously served on the NAMI-Dane County Board in the late 1990s through early 2000s, as well as the NAMI-Wisconsin Board.
"I am excited and honored to assume this special leadership role for the NAMI affiliate where it all began, NAMI-Dane County. I humbly acknowledge the courageous and brilliant women who started the NAMI organization—Harriet Shetler, Bev Young and one of my personal Sheroes, Nancy C. Abraham. I aim to follow the august footsteps of Dr. Bob Beilman, Gail Louise Auerbach, and Dr. Corinda Rainey-Moore, all former NAMI-Dane Presidents and all dear friends of mine. I am grateful to have served as Vice President under my friend and colleague "Pirt"; I feel ready for this!"
Dr. Gooding, a Professor of Psychology and Psychiatry at the University of Wisconsin-Madison, is a leading figure in the study of markers and predictors of risk for psychotic disorders, particularly schizophrenia. She has recently begun to lend her impressive talents to the study of dementia as well. She has published over 100 papers in scholarly journals, as well as countless essays for the lay public (including, but not limited to, The Pioneer and The Iris), and was recently featured on NPR's University of the Air episode, Eyes on Schizophrenia. Throughout the years, she has received teaching and research awards for her efforts to bring both a scientific and humanistic perspective to the study of severe mental illness.
"We're so fortunate to have a great staff at NAMI-Dane County, in partnership with NAMI-WI, and a committed working Board of Directors. I think now, more than ever, we need to harness our strengths and make sure that in these changing and challenging times, people with mental illness are being listened to, getting their needs met, and being treated with care, respect, and dignity. We need to support family members and loved ones. Mental illness affects all of us, directly or indirectly."
Born in New York City, Diane Gooding earned her undergraduate degree from Harvard University magna cum laude and her Ph.D. in Clinical Psychology from the University of Minnesota-Twin Cities. She is an enthusiastic member of The Links, Incorporated, as well as Phi Beta Kappa.
One of Dr. Gooding's overarching goals in her new role as President is to make NAMI-Dane more accountable to its members, engage in more outreach to underrepresented communities, and continue advocacy and de-stigmatization work.