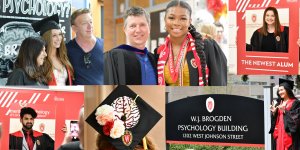 Congratulations to our students graduating December 2022, May 2023, and August 2023!  We're grateful to have been part of your journey and look forward to celebrating your accomplishments!
On Saturday, May 13th from 9am-11am, the Department of Psychology invites bachelor's degree candidates and their families and guests to join us at the Brogden Psychology Building for a drop-in style reception. Graduates can share their Psychology experience with their loved ones while strolling the first floor of Brogden (1202 West Johnson Street). Stop by to enjoy a treat and receive a new Psychology alumni gift and keepsake from the Department.
Professional photos of graduates offered.
RSVP encouraged. CLICK HERE TO RSVP.
The Psychology Graduation program will be available at the event and will include graduates' names from the 2022-2023 academic year.
Graduating students should complete the Graduation Checklist.
Additional information about the College of Letters and Science Commencement can be found at ls.wisc.edu/current-students/commencement and UW-Madison's all-campus Spring 2023 Commencement can be found at commencement.wisc.edu