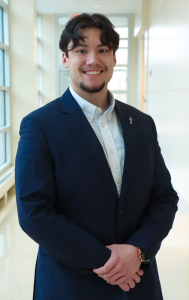 Last spring, Psychology major Jonathan Bryan cultured bacteria in petri dishes, demonstrated laser lights and spectrums, and guided an engineering egg drop challenge with middle school students from the Oneida Nation School System. The hope was to get students interested and engaging in STEM subjects.
"Our goal was to engage the students directly with STEM learning," Bryan says. "We had group activities to connect the students with various STEM subjects, leading to greater interaction with the material and shared science experiences."
The STEM activities are part of the Bridging Wisconsin Program, one of seven undergraduate projects awarded a 2022-23 Wisconsin Idea Fellowship. The fellowships provide support and funding, of which a portion is awarded to students as a personal stipend, to semester or year-long projects addressing issues that local or global communities identify. The Bridging Wisconsin Program, which connects the Oneida Nation School System with UW-Madison, aims to promote the inclusion of diverse cultures in STEM.
Bryan, a third-year student also majoring in neurobiology and molecular and cell biology, came across a Morgridge Center email with details about the fellowship. After checking the requirements, he met with fellow undergraduate students Andrew Yang, Chao Xiong, and Mai Chada Vang with whom he co-founded a pre-health student organization, Medical Advocacy and Venture Outreach Cornerstone (MADVOC), and started drafting a project proposal.
With the help of faculty advisors Seth Pollak from the Department of Psychology and Kristen Malecki from the Population Health Sciences program, the team narrowed their focus. The Oneida Nation School System was interested in being involved with the project, and Bryan says the team is greatly appreciative of the staff and students involved.
Over a school week last spring, the team engaged in STEM activities with middle school students and discussed their own education paths and the interests of the students. The team also talked about resources available for students on the UW-Madison campus.
Bryan says his psychology major prepared him for creating the content used during visits to the Oneida Nation School System. He brought incentives for students answering questions and incorporated movement and opportunities for reflection to help students stay engaged.
During their visit, the team received feedback from instructors and the participating middle school students.
"In a sense, my psychology major made me more aware of asking and listening to other's perspectives than forming my own assumptions," Bryan says.
This partnership between the Oneida Nation School System and UW-Madison will be continued by the pre-health student organization MADVOC.
"The Wisconsin Idea greatly resonates with all of our team members," Bryan says. "From this project, we hope to see an eruption of other bridging programs with different regions of the USA and abroad."
This program is made possible in part by the Wisconsin Idea Fellowship Program from the Morgridge Center for Public Service.
Written by Sara Stanislawski x'25