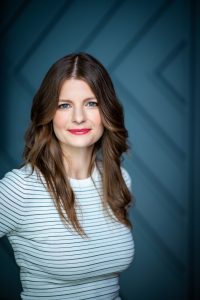 Meghan Wulff Reibstein '06 found the intersection of her business experience and passion for people in a job made possible with technology and prompted by the COVID-19 pandemic.
Reibstein, vice president of product management and flexible work at Zillow, helps make work more flexible in time and place for the company's workforce while working flexibly herself.
Reibstein graduated with a BA in Psychology from the University of Wisconsin–Madison in 2006.
"I'm 16 years out [from graduation], and I'm doing the most thrilling work of my career," Reibstein says. "I'm in a pretty unique space where there's not yet a lot of people leading."
Overseeing traditional tech product management and remote and hybrid work at Zillow, Reibstein's work deals with a core question: how we work. She examines how employees best operate, interact, and experience change, using survey responses to provide insight into employee sentiment around operational and cultural practices. 
"This intersection of people and business is where I thrive," Reibstein says. "I'm at least one point of evidence that you can find really, really fulfilling work with a psychology degree."
During her time at UW, Reibstein knew a psychology degree would give her a liberal arts education and open many options for her future, including a clinical or business path.
"I knew [psychology] would help me learn about the thing I was interested in, which is the way humans think, behave, and interact," Reibstein says.
Reibstein says the psychology courses she took have influenced how she thinks about aspects of her career including stakeholder management, influencing others without authority, and helping people with different skills and backgrounds accomplish a goal together.
But at the time she graduated, Reibstein was unsure of her future.
"I came out with a really good education, a really good ability to connect with people, but not a clear sense of what I was going to do with my degree, or with, you know, my life," Reibstein says.
While earning her degree, Reibstein worked nearly full time at Stillwaters and Espresso Royale Cafe, two then-State Street staples, to put herself through school.
That restaurant experience didn't translate very well to business, at least not out of the gate. After many interviews and rejections, Reibstein eventually got her first job in the corporate business industry through a temp agency.
"I remember going to interview, after interview, after interview and I couldn't get hired – not even for the most entry level of roles," Reibstein says. "I certainly learned about resilience through that process, which still serves me today."
Reibstein's career path took her from restaurant manager to administrative assistant to product management to Amazon, where she served as the single-threaded leader on the first Prime Day and also as a Technical Advisor to Amazon's CHRO.
"[Prime Day] was a big deal for my career and for my learning," Reibstein says. "I think at the same time, though, I had to face that what we were doing was creating a shopping holiday." While Reibstein found the logistics of the project fascinating, it did not match her passions.
"Ultimately, after seven years at Amazon, I was really hungry for a change," Reibstein says. "One of the things that I've continued to examine in my career is how I best match my skillset and experiences to work that both aligns with my interest and provides a net positive impact to society." 
Reibstein was looking for an employee-centered workplace and says Zillow was well known for that.
When Reibstein started at Zillow three years ago, she and a few others on her team set a goal to pilot a work-from-anywhere program. Just a few months later, the COVID-19 pandemic sent the company's workforce home in March 2020, and the pilot was underway (albeit at a much bigger scale than originally planned).
In the early months of the pandemic, Reibstein and her team surveyed employees about their well-being and interest in flexible work post-pandemic.
When the company decided that its employees' work would be flexible in time and place for the long term, designing Zillow's flexible work became a crucial part of Reibstein's position overseeing organizational operations.
Reibstein's work has since been covered by news outlets including the New York Times,  Financial Post, GeekWire, and Fortune.
"It's incredibly fulfilling work," Reibstein says, "combining my business leadership experience with my training in psychology to help make people's lives better by providing flexibility." And there have been some special moments for her – she spends much of her time in Asheville, NC, living next to her mom and brother, and she was featured on the front page of the  business section of the New York Times. "I never in a million years thought that would happen."
Reibstein shares her experience and skills as an advisory board member for the Erdman Center for Operations and Technology Management at the Wisconsin School of Business. She mentors students in the Operations and Technology program, a track focused on product management.
Reibstein describes her life path as "tortuous," a word she used in her application essay to the Seattle University School of Law a few years after graduating from UW.
"When my mom was helping me refine my essay, we found this word 'tortuous.' Not torturous, but tortuous, this kind of winding pathway," Reibstein says. "And that is absolutely a part of my story, just taking something to get started and then learning and growing and moving to the next thing." 
Reibstein encourages students to be patient while finding a career combining their skillset and interests, and to take advantage of UW's resources, make a plan, and stay open-minded.
Reibstein attended law school for a year but decided it was not for her. She says she learned the importance of being open-minded and ready for anything from her time in Madison.
"Had I not made the decision to leave law school and continue on a path that felt authentic to me – albeit a tortuous, windy one," says Reibstein, "I wouldn't be in the job that I'm in today, getting to do this really creative, forward0thinking work – to change the way works shows up in our lives." 
Written by Sara Stanislawski x'25