Professor of Psychology Kristin Shutts was recently awarded a $2.8 million grant from the National Institutes of Health (NIH) to study whether an intervention given by White parents to their kids would help reduce racial biases in young children. "There's been tremendous data showing the harmful effects of racial biases on children. We know that racial biases begin early in development. There has been a lot of work focused on how to help children who are the target of biases buffer those negative effects," Shutts says. "I think it's time to complement that research with a focus on what to do about children who might be perpetuating those biases."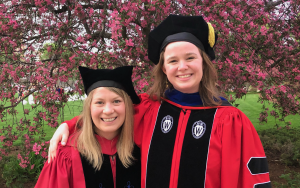 Shutts, along with Dr. Patricia Devine, the Kenneth and Mamie Clark Professor of Psychology at UW-Madison, and their PhD student Katharine Scott, have developed an intervention that consists of a training program for parents that explains how racial biases develop and what we know about techniques for reducing them, as well as at-home activities parents can do with their children to practice what they learn in the training. Ultimately, the project hopes to illuminate not only if the intervention is beneficial but also if White parents can serve as effective bias interventionists. The project also includes collaborative partner Dr. Colleen Halliday of the Medical University of South Carolina, who is an expert in racial/ethnic disparities.
"For years, parents and educators—upon hearing about our findings or watching their children participate in one of our studies—have said, 'I noticed my child showed some form of bias in there, what do you think I should do about it?' And I haven't had much to tell them," says Shutts, who has been conducting research on the development of biases since her PhD program. "I know we need more tools to help parents who are interested in raising inclusive, egalitarian children. That was the impetus for this particular project."
While this project looks particularly at racial biases, Shutts sees a direct link from this work to intellectual and developmental disabilities. Biases can often form against people who may look, think, or behave differently than typically developing individuals. Shutts knows that if the intervention program being tested in this project shows success, it could be applied to biases outside racial ones. "We have developed measures to assess children's apprehension of the social world and how they think about people who might look different from them," Shutts says. "Those measures can help us test if it is effective to provide parents with tools they can use to talk to their children about how to behave inclusively and kindly toward people from different backgrounds.
Shutts will be piloting several aspects of the grant at Madison Children's Museum. While the grant isn't formally associated with the museum, this collaboration will allow for an incredibly diverse participation pool as well as a more comfortable environment than a traditional lab space for portions of the project.
This is not the first time that Shutts has worked with the museum and they are thrilled to have the opportunity to work together again. "We stand in solidarity with developmental psychologists and child development researchers to emphasize to folks that this is a science and that learning how humans develop is a really important scientific field," Kia Karlen, vice president of education and community engagement at Madison Children's Museum, says. "There persists some stereotypical notions about what scientists look like and who they are so it's good to let our visitors interact with scientists of all ages and backgrounds."
After the completion of this project, Shutts hopes to expand this research to include a variety of other biases, including disability biases.
This story was adapted from the original article by Emily Leclerc of the Waisman Center.