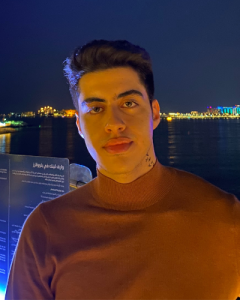 For as long as he can remember, international student Abdullah Marei has gravitated towards big questions: What are people's motivations behind what they do? How does someone's past impact who they are? Now, as a junior majoring in psychology with honors and conducting research in two psychological research labs, Abdullah is pursuing the answers to his questions, and coming up with plenty more. We caught up with him in this month's Student Spotlight.
UWPsych: How did you choose your psychology major?
Abdullah: The COVID-19 pandemic actually proved to be a defining turning point in my career because it marked the shift in my study path from being pre-med to purely focusing on psychology. Previously, I had plans of going to medical school. Being Middle-Eastern, I grew up with a deep-seated mindset that I only had the option of being either a doctor or an engineer. It was so hard to explore any other fields because, I thought, "What are people back home going to think?!" However, the pandemic made me realize that time is very fleeting and life is too short, so I might as well do what makes me happy, and for me, that is definitely psychology! It's always what I wanted to do and now that I am doing it, I fully believe that this is what I was born to do. I think once we let go of our self-doubts and internal anxiety of the unknown, then we can truly be the best versions of ourselves. 
UWPysch: Tell us about the work you're doing with the Brauer Group Lab and the BRAVE Research Center.
Abdullah: In the Brauer Group Lab, led by Dr. Markus Brauer, I mostly help conduct research related to diversity, equity, and inclusion. We are currently working on studies to examine the effects of descriptive social norms and commitment and consistency on inclusive behavior. Can we use such strategies to get people to behave more inclusively? I work as a research actor and I have also helped design a field study where I helped come up with the experimental design, write up the research proposal, and debrief emails.
In the BRAVE Research Center, we are currently exploring the effects of COVID-19 on parent-child interactions. We are examining things like the effect of the pandemic on the way in which parents interact with their children. I help run test participants, administer surveys and stimuli, record information, and collect and analyze physiological data. Currently, I am writing up my senior honor thesis with the BRAVE Research Center where I am examining the efficacy of virtual reality and emotional regulation treatment on juveniles with anxiety.
UWPsych: How has your psychology major or involvement with research labs influenced your plans for the future?
Abdullah: My research has solidified my passion for pursuing a PhD in clinical psychology where I will be able to explore my research interests on affective disorders, advocate for mental health, and potentially open my own private practice. I think there is so much flexibility with this degree because I can do so many things in the future, from a scientist to a therapist or even a public figure—the possibilities are endless! I can't imagine myself doing anything else. I am so grateful and blessed to have found what really keeps me driven in life.
UWPsych: You have a lot of extracurricular involvement! Tell us how those activities have shaped your experience at the UW.
Abdullah: Besides my research activity, I also work at the McBurney Disability Resource Center as a Study and Learning Skills Specialist where I help guide students with disabilities to build more effective strategies for studying and managing stress levels throughout college. I am also a Dean's Ambassador, a mental health ambassador with the National Alliance on Mental Illnesses, a helpline advocate at the Rape Crisis Center, and involved with Psi Chi and the Daily Cardinal. And this year, I founded my own organization, Queer and Trans People of Color.
I think all those roles have greatly changed me more than I have realized. I have helped support people, advocate for people's rights, and establish my own space to welcome community in a unified space. I think the most important thing I learned from all this is confidence. In high school, I got bullied most days, even on the day of my graduation, for being different. It's always very humbling to remember this because my achievements, my supervisors, and my peers at UW-Madison, they have all helped me feel like I am capable and that I am worthy. And that is truly what I have gained the most from this—a sense of self-worth, profound confidence, and an unshakable drive to succeed.
UWPsych: Anything else you'd like to share?
Abdullah: I just want to mention that being an international student, especially being Middle Eastern and North African (MENA), can sometimes be an alienating identity in psychology. Most psychology students are white, which can often cause imposter syndrome for a lot of BIPOC students that do not fit into that category. It's also important to recognize that a lot of psychology research has focused on a western demographic, and the subject in of itself has morphed into a western concept. I would love to help introduce this discipline into the Southwest Asia and North Africa region as well as advocate for mental health and conduct my own research or replicate previous studies on an eastern population in order to diversify and increase the generalizability of psychology research. I think that having people of color and other eastern representations like me in the psychology field can help create a more nuanced understanding of the human mind and social interactions!