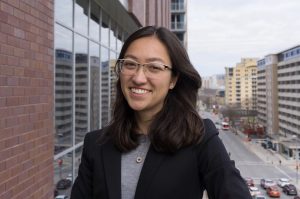 In a season of unknowns, senior Emma Lai is pushing forward. With a triple major in psychology, economics, and religious studies, Emma needed to create a daily routine to maintain her sanity over the past seven months. While that's helped, it was the combination of work, networking, and virtual happy hours at Emma's internship with the Federal Reserve Bank of Chicago this past summer that gave her what she needed to carry on.
In this month's Student Spotlight, we talk with Emma about her psychology lab participation, her internship, and how inclusive behavior shows up in the little things.
UWPsych: How did you decide to pursue a psychology degree?

Emma: When I was a senior in high school, I had the opportunity to do a year-long independent research project. I chose to study the relationship between religious identity and time allocation. That project began my fascination with understanding and quantifying the motivations and consequences of human behavior. Psychology (and subsequently the Brauer Group Lab) enabled me to explore that interest further. 
UWPsych: Tell us how you first got connected to the Brauer Group Lab.

Emma: I found the lab position through the department's Undergraduate Research Fair in spring 2018. As I was leaving lecture for the day, I saw the sign for the fair, so I turned around and walked up the stairs. All of the labs seemed interesting, but in light of the study I did in high school, the Brauer Lab captivated me because of the way they used empirical data to promote diversity and inclusion on campus. I have been with them ever since. 

UWPsych: How did you find out about the Federal Reserve Bank internship? Had you considered any others?

Emma: I have always wanted to work at the Fed since AP Economics in high school, so I applied every year through their website. However, I did most of my internship search through the Career Fair, Handshake, and LinkedIn. LinkedIn is especially helpful for building a strong network and easily finding new opportunities.
Before taking the Chicago Fed opportunity, I had to rescind my acceptance of another internship at a large retail company. That was a tough decision to make (there were pros and cons to both), but I ultimately decided based on my gut feeling. I have no regrets. 

UWPsych: How did the internship experience live up to your expectations? 

Emma: I went into this internship with the idea that it would be a great experience, but I completely underestimated how welcoming, inclusive, encouraging, and collaborative the Chicago Fed's culture was. I had an amazing team who taught me not only how to do my job, but also the skills I needed to exceed in the workplace (like building relationships with leadership, navigating workplace conflict, and effectively pitching an idea in a way that both informs and captivates the target audience). 
Besides the culture, though, visualizing and analyzing people data at the Chicago Fed was the first time I truly "lost" myself in my work because I enjoyed it so much. I am truly grateful for the opportunity. 
UWPsych: How did your classes/lab involvement prepare you for the internship? 
Emma: One of the projects I had at the Chicago Fed was designing a prejudice intervention that would promote diversity and inclusion in the workplace. Because of my experience with the Brauer Lab, I was able to apply our social norm research by designing a prejudice-reduction intervention at the Bank.   
UWPsych: What advice would you give to someone to make the most of an internship?
Emma: NETWORK! It's the most cliche answer, but it is easier said than done. No matter how large or small the company is, don't be afraid to reach out to the people you meet. Connect with them on LinkedIn. Schedule a 15-minute coffee chat. Ask them about their career path and the advice they have for you. The worst thing they can do is ignore you; so just reach out.

UWPsych: Finally, what's something that will stick with you from the internship?
Emma: Something I will always be impacted by is what it means to be a part of a truly collaborative workplace. "Group projects" in school are very different from "group projects" at the Chicago Fed. In my experience, people did not simply start a meeting; they asked about my well-being and went out of their way to include me. For example, every time someone greeted the People Analytics team, they would refer to us as guys and lady (I was the only girl on the team). Inclusive behavior is in the little things, and I will always remember the inclusive behavior I experienced at the Chicago Fed. 

Want to take a next step towards an internship? Schedule an appointment with a SuccessWorks advisor, check out Handshake, or join the department's LinkedIn alumni group.