Graduate student and Tokyo native Eren Fukuda is working on a critically important issue: How can we help young children develop an openness toward and an interest in people who are different from them? The work has become more challenging as she navigates the Social Kids Lab's efforts to continue research with young children virtually, but Eren took a break to speak with us about her research and graduate experience at UW–Madison.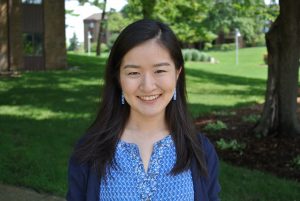 How did you decide to pursue a PhD in psychology?
I have always been fascinated by how we come to think in the way we do, shaped by environmental factors such as culture, education, and parenting. After I started taking psychology courses and joined my first lab as an undergraduate research assistant, I realized that I can explore my interest through developmental psychology research. I fell in love with the field, graduating with a BS in psychology from the University of California, San Diego, then working as a lab coordinator at the University of Virginia, and, finally, joining UW-Madison as a PhD student last year.

My particular area of research is social cognitive development. More specifically, I am interested in how children reason about individuals and social groups. My hope is that my research will inform ways to foster inclusive attitudes and behaviors in children.
Why did you choose UW–Madison?
I wanted to join an academic community that is more collaborative than competitive, and that is why I choose to join the Department of Psychology at UW-Madison. My research interests aligned well with Kristin Shutts, my advisor, and the Social Kids Lab, and I wanted to be a part of this team.
What are the most challenging and rewarding experiences of your graduate experience?
As a second-year PhD student, I am figuring out how to balance my research with coursework (and, beginning this fall, TA-ing), which has been the most challenging part of my graduate experience. My advisor and other students have been very supportive, and I am learning to be more patient with myself. The most rewarding events so far have been presenting my research proposal to my First Year Project committee and analyzing my pilot data using R techniques that I just learned in stats class.
What are you most looking forward to this upcoming school year?
I'm looking forward to seeing the results of my First Year Project and thinking about further questions! I'm also really looking forward to the day when everyone can be back on campus and at the Terrace without having to worry about the virus. Luckily, I have been able to stay connected with family and friends, and good (virtual and in-person) company has definitely made a big difference in staying positive.
You can follow Eren on Twitter at @eren_fukuda and Social Kids Lab on Facebook at @SocialKidsLab.