Graduate student Gaylen Fronk decided to pursue her PhD in clinical psychology in part because, she says, "it helps keep my research implementable, because the hopeful beneficiaries of our work are right in front of me." She shares more about her research on understanding and treating substance use disorders and offers advice for those considering graduate school in this month's student spotlight.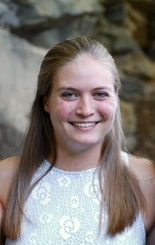 Hometown: Rochester, NY
Undergraduate degree: BS in Psychology from Davidson College
UWPsych: Tell us about your current research.
Gaylen: I'm working on several research projects related to understanding and treating substance use disorders. My primary project aims to develop an algorithm that could match people looking to quit smoking cigarettes to the treatment expected to work best for them as individuals, based on a wide set of characteristics that may make one treatment more or less effective than another. Ultimately, the goal of my research is to have an algorithm that can be implemented in clinical practice. It could help the millions of adults (in the US alone) who continue to smoke cigarettes daily as they quit, which would have widescale public health impact as well as individual impact for each patient.
UWPsych: What's one misconception people have of substance use disorders?
Gaylen: Some people think the drug or alcohol use is a personal choice, that it reflects moral shortcomings, or is in some way the fault of the user. These are psychological disorders, and we must treat them with as much grace and compassion as we would other mental health conditions. Substance use disorders are surrounded by an overwhelming amount of stigma, and though we've made some progress, I hope we can continue to improve.
UWPsych: What are the most challenging parts of your graduate experience? The most rewarding?
Gaylen: I think the most challenging part of graduate school is encountering and working with people who are resistant to change. This spans from clients who feel they lack the capacity to change all the way to established scientists who have difficulty embracing new perspectives. The most rewarding part, however, is when we are able to collaborate and make those changes together because we both learn in the process. 
UWPsych: How are you managing the physical distancing and realities of living during a pandemic?
Gaylen: I've been pretty lucky overall. I have my own space to work from home, I have a few friends who've agreed to form a sort of "isolation cell," and I've found fun ways to spend time outside. Recently, we re-watched all of the Harry Potter movies, and I've been reading a lot more for pleasure since March. Recent favorites include Where the Crawdads Sing, The Night Circus, The Giver of Stars, and Untamed.
UWPsych: What are you hoping to do with your degree after graduation?
Gaylen: I'd like to do research in a medical center like a hospital or VA. I could see some of my time being spent on clinical work, but I'd like the majority of my job to be research focused. 
UWPsych: What advice would you give to someone considering a PhD in clinical psychology?
Gaylen: I would encourage them to find someone to talk to for a first-hand account of what a clinical psychology program is like! It can be really helpful to know a bit more what to expect, what the process might look like, and how to find the right fit for them. I was lucky enough to speak to UW students while working as a research technician before applying, and I know they were a huge help to me.