Each month, we spotlight outstanding psychology majors in our department. This month, we're excited to feature Sara Stanislawski, a first-year student intending to major in psychology and journalism, and one of the department's new communication interns this semester.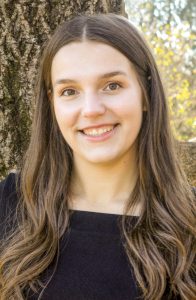 UWPsych: How did you decide to pursue a psychology major?
Sara: I decided to pursue a major in psychology because I really enjoyed taking a psychology class in high school. I also wrote an article for my high school newspaper relating to student mental health, which reinforced that it is an important issue that matters to me. I am especially interested in learning about how to support people dealing with challenges related to mental health, particularly young people.
UWPsych: Sara, tell us about your favorite psychology class so far.
Sara: My favorite psych class is Psych 403: Psychology of Personality. I am taking the class this semester, and I am enjoying learning about the ways people differ in how they think, feel, and act and how many other factors can also play a role. I am excited to learn about how psychologists take on such a complicated task as attempting to understand everything about a person.
UWPsych: You have a lot of extracurricular involvement.  How have those shaped your experience at the UW?
Sara: Being a news reporter for the Badger Herald and doing copy editing, I have been able to interact with UW faculty, staff, students, and community members that I otherwise would not have the chance to. It has been amazing to learn more about and tell stories about the UW community and see connections with the broader community as well.
UWPsych: How have your psychology courses influenced your plans for the future? 
Sara: The psychology courses I am taking have encouraged me to continue to be involved with psychology after graduation, whether that involves being a mental health reporter or a school psychologist, or something else. I have not yet had the chance to get involved with a research lab at UW but look forward to hopefully doing so over the next few years!
Thanks, Sara!