Students of social and cognitive psychology know that people's behaviors are influenced by social norms, that how you frame a problem can have significant effects on how others perceive it, and that our short-term memory is a lot shorter than one might think.
In PSYC525 Cognition in Health and Society, Associate Professor Joe Austerweil challenges his students to consider how what they know about attention, memory, problem solving, and more can be applied to better understand current societal and health issues and improve people's lives.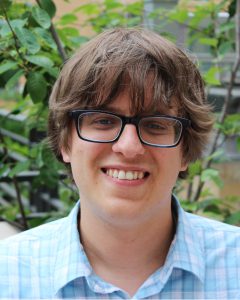 "Due to their complexity, we often study and teach about these topics where the complexities of real life are removed," says Austerweil. But learning to apply basic research from cognitive psychology can have significant societal implications. Take 2017 Nobel Prize winner Richard Thaler, for example, whose work on "nudges" may help people exercise better control when saving for retirement.
It's this kind of application that Austerweil is after when he assigns the class's final project requiring students to conduct their own analysis of a societal or health issue, create a set of recommendations supported by empirical data, and present the information in a medium of their choice – from a traditional paper to a brochure you might find in a doctor's office to a website or video.
"I was blown away by how creative and well-conducted student projects were this spring," says Austerweil. "They were some of the best I have ever received, despite all of the challenges resulting from the pandemic. Students addressed COVID-19, abuse, recycling, food waste, policing, and many more topics by applying the knowledge learned earlier in the class."
Senior Alan Chen developed a pamphlet titled, "How to Reduce Food Waste at UW–Madison" which advocates for implementing an awareness campaign, reducing portion sizes, and fining food vendors who don't donate excess food, all recommendations justified by cognitive psychology research.
Senior Jonathan Orth, reflecting on how to promote parental use of positive discipline techniques, created a comic book for adults that draws from research on parents' existing values about parenting, cultural and social norms, and the importance of giving parents confidence in their own self-regulation.
Orth says he enjoyed researching the subject of child maltreatment because he grew up with parents who consistently told him that some kids need physical discipline to get the message, "a message I saw heavily refuted by social scientists. It is very important to me to try to get inside pro-corporal-punishment parents' heads to get them to consider the gravity of their actions."
In addition, Orth, who has taken comics classes at UW, says he appreciates that comics are "something of a window into people's experiences and ideas. I was doing everything in my power to make this comic relatable and professional; not biased or too personal. But it is also a narrative I needed to get out, to look into and tell others about too, because it is clear to me that there are healthier, kinder avenues of helping kids learn morals and self-control than punishing them."
Both students' final projects are accessible below.