The Department of Psychology is pleased to welcome Julia Greenberg to our instructional staff team this fall. Dr. Greenberg will teach Research Methods (225) and a Developmental and Evolutionary Origins of Human Cognition capstone (601), in which she hopes to help students in both courses hone their scientific literacy, writing, and communication skills. We invite you to learn more about Dr. Greenberg in our Q&A.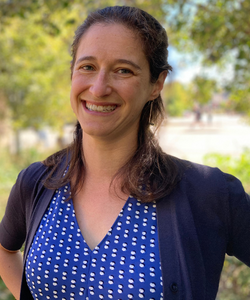 Hometown: Evanston, Illinois
Educational Background: BA in Psychology from Carleton College (2008); Fulbright Fellow in the Department of Developmental and Comparative Psychology at the Max Planck Institute for Evolutionary Anthropology in Leipzig, Germany; PhDs in Integrative Biology and Ecology, Evolution, and Behavior from Michigan State University (2017)
What aspect of psychology do you find most exciting?
I have always been fascinated by the various incarnations of the "nature vs. nurture" debate and I am particularly excited by how research in epigenetics is continuing to enrich our understanding of this false dichotomy. I've had the opportunity to be involved in some of this research involving spotted hyenas—not a common model organism! Additionally, although it is not in my research area, I find research in the field of Cultural Psychology particularly interesting and important.
Tell us about your teaching philosophy and style.
What motivates me to teach is the opportunity to help students better understand the scientific process and grapple with the complex role of science in society. My experiences learning from fantastic teachers and mentors also inspire me to teach. In my courses, I try to engage my students in active scientific inquiry so that they can discover first-hand the challenges of the scientific process. I also find insights from the field of metacognition particularly interesting and hope to help students reflect on their own learning process to aid in their development as students.
Why did you choose to teach at UW–Madison?
I was drawn to UW–Madison for its history of excellence in research and teaching, the diversity of activities and students it supports, and its location in a great Midwestern city. Serving as a faculty assistant for Psychology 225 with Professor Allyson Bennett in 2020 introduced me to the psychology department and the opportunities to grow as an instructor at the university.
What do you enjoy doing in your free time?
In my free time, I enjoy camping and hiking with family and friends, gardening, and taking advantage of the great music venues and restaurants in Madison. I also enjoy pondering comparative cognition while playing fetch with my dog and contemplating the principles of developmental psychology while spending time with my one-year-old son.
What's something interesting about your area of expertise you can share that will make us sound smarter at parties?
The species that I studied for my PhD, spotted hyenas, don't have the greatest reputation. But don't believe everything you see on The Lion King.  They live in complex societies organized by matrilineal dominance hierarchies, show some of the most extensive maternal care of any carnivore, and have cognitive abilities in many ways similar to those of primates.