On Thursday, April 28, nearly 200 people gathered in Varsity Hall at Union South to congratulate this year's undergraduate award winners. The Department of Psychology annually recognizes students with six different awards, acknowledging students' exceptional work in the laboratories of world-renowned psychological scientists, the dedication and discipline with which students pursue academic excellence, and demonstrated career interest in the field of psychology. Please join us in congratulating all of our students!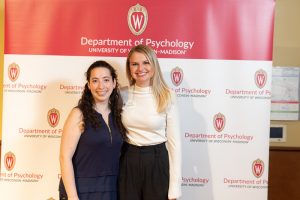 Robert J. Glushko Outstanding Undergraduate Cognitive Science Prize
The Robert J. Glushko Outstanding Undergraduate Cognitive Scientist Prize is awarded annually to senior Psychology majors who have demonstrated the strongest combination of: academic excellence; sustained and outstanding involvement in cognitive science research (typically involving two or more semesters devoted to a single project); and engagement in learning about cognitive science at UW and beyond via activities such as classwork, research, independent reading, and/or conference attendance.
This year's recipients are Anna Compton and Miriam Lebowitz.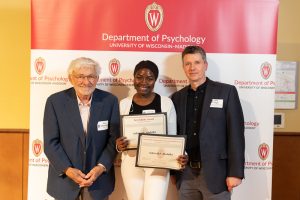 Serendipity Award
This award recognizes an undergraduate student who has been nominated by a faculty member in whose lab they work. The award is given as a serendipitous surprise to a student committed to a career in Psychology and nominated without their knowledge by a faculty member. The award is funded by retired Professor of Psychiatry and Psychology alumnus Aris Alexander'57, MA'59, PhD'62.
This year's recipient is Ashwakh Abdalla.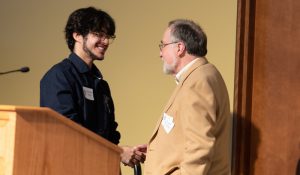 Arlene Davenport Award
The purpose of the Arlene R. Davenport Fund is to annually support a Psychology student who has demonstrated a career interest in psychological research. Funds are to be used to help defray research and career development costs. This award is funded by Professor Emeritus Charles Snowdon & Ann Lindsey and Friends and Family of Arlene Davenport.
This year's recipient is Abdullah Marei.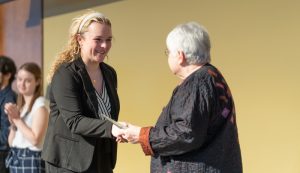 Thesis and Travel Awards
Undergraduates may receive these awards to support research and thesis projects supervised by a Psychology faculty mentor or to cover travel expenses to present research at a professional conference. This award is funded by distinguished alumni award recipient and Board of Visitors member Joyce Rosevear, PhD'74.
This year's Undergraduate Thesis Award Recipients are Taylor Browne, Sara Buchwald, Annalisa Chu, and Katelyn Rokus.
This year's Travel Awards recipients are Abdullah Marei, Paige Bruggink, and Jenna Hansen.

Bryan's Aspiring Psychology Student Award
This award is intended to acknowledge students' excellent work as a UW-Madison student and to encourage these students to take the next steps toward achieving their academic and career goals in the psychology department. Bryan's Aspiring Psychology Students have declared the Psychology major in the past academic year, and have the top GPAs among their peers.
This year's recipients are:

| | | |
| --- | --- | --- |
| Julia Banchik-Lesniak | Vicky Chan | Alan Chen |
| Elena Clemmensen | Jack Dong | Charlotte Erenberg |
| Sam Fagan | Contessa Ganske | Gabby Guinther |
| Grace Herrmann | Julia Larson | Sophie Lusty |
| Sneha Maheshwari | Uday Malhotra | Abdullah Marei |
| Emma McCoy | Allison Meier | Matthew Meuler |
| Victoria Mui | Kai Newman | Megan Prahl |
| Grace Riedl | Brianne Seagreaves | Armaan Shetty |
| Marek Solvik | Ryan Stevenson | Zoe Styler |
| Meng Sun | Cole Witt | Reggie Wu |
| Daria Zikel |   |   |

Outstanding Undergraduate Research Scholar Award
This award is given to students who were nominated by a Psychology faculty member and have been outstanding and exceptional research assistants and scholars. When beloved former lecturer Bryan Hendricks initially donated the funds for this award, he wished to remain anonymous. Today, when students are nominated and awarded the Outstanding Undergraduate Research Scholars Award, they are told about Bryan and his generous contribution to recognize undergraduates' hard work and dedication to the innovation and discovery happening at UW-Madison.
This year's recipients are: 

| | | |
| --- | --- | --- |
| Ashwakh Abdalla | Taylor Browne | Paige Bruggink |
| Sara Buchwald | Jessa Burling | Kelsey Campbell |
| Yiru Chen | Madison Cheslock | Annalisa Chu |
| Abigail Collins | Anna Compton | Amelia Dow |
| Sofia Drotts | Samantha Greco | Jenna Hansen |
| Alexander Henoch | Brooke Hiess | Michaela Kihntopf |
| Brian Li | Nicole Meyer | Madilyn Michels |
| Karina Miller | Trinity Olson | Nicholas Richie |
| Katelyn Rokus | Briley Rossiter | Tia Sadlon |
| Allison Swid | Jonathan Tansey | Grant Walker |
| Georgia Williams |   |   |

To see pictures from the evening, please visit this link using the password: fullevent4513!