Overview
The Clinical Psychology Doctoral Program at the University of Wisconsin rests on two fundamental assumptions: 1) The practice of psychology will be best served by training clinical scientists who possess the knowledge, research training, theoretical sophistication, and clinical experience to increase understanding of the processes underlying mental health and mental illness, and 2) Such understanding will ultimately foster methods that promote mental health, prevent mental illness, and ameliorate psychopathology.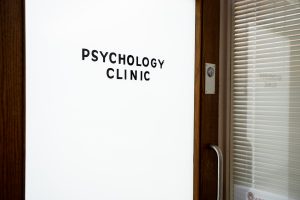 Consistent with our programs membership in the Academy of Psychological Clinical Science, our program's emphasis on training clinical scientists highlights our strong "commitment to empirical approaches to evaluating the validity and utility of testable hypotheses and to advancing knowledge by the scientific method" (APCS mission statement). The principal goal of the UW-Madison Clinical Program is to train clinical psychological scientists who will: 1) generate new and significant knowledge about the factors that influence mental health and illness, 2) develop more effective methods for treating mental illness and promoting mental health, and 3) deliver evidence based, cost effective, clinical care to treat psychopathology and improve mental health.
Our program uses a mentor model for research training; applicants are admitted to the program based in part on how closely their research interests are aligned with that of the current faculty. The close working relationship between the faculty mentor and the graduate student is one of the mechanisms integrating theory and research with applied training. Students' coursework and clinical practicum experiences comprise the other mechanisms that foster the integration of science and practice. Virtually all clinical graduate students have received financial support while in residence in the graduate program. Throughout the program clinical graduate students complete a sequence of core courses covering the etiology and treatment of psychopathology, the theory and application of clinical assessment, clinical research methods, statistics/methodology courses, as well as other coursework in nonclinical areas both in and outside of the department (see Degree Requirements). The coursework typically requires three years to complete.  However, it may take six or more years to complete all training in the program (e.g., clinical practicum, masters and dissertation research).
The Faculty
The program has seven core clinical faculty (Professors Abramson, Curtin, Davidson,Goldsmith, Gooding, Li, Pollak, Walsh) who can admit students to the program. The program has an additional 4 affiliated faculty who also have admitting privileges (Professors Koenigs, Piper, Plante, Herringa).  All of the Clinical training is overseen by the Co-Directors of Clinical Training (Linnea Burk and John Curtin) and Clinical Area Group Chair (John Curtin) and the core/affiliated Clinical faculty.
Our Research
All clinical faculty have very active research laboratories that regularly produce high quality, high impact research publications. Our clinical faculty as a group are exceptional at securing extramural support to fund their research and have received considerable national and international attention for these accomplishments. The clinical faculty are leaders in many areas of psychopathology and individual differences including such specific topics as psychometric methods (Curtin, Goldsmith, Li), assessment (Curtin, Davidson, Goldsmith, Gooding, Piper, Pollak, Walsh), psychotherapy/intervention and its evaluation (Abramson, Davidson, Walsh), clinical research methods (all faculty), biological aspects of behavior (Abramson, Curtin, Davidson, Goldsmith, Gooding, Herringa, Koenigs, Li, Pollak, Walsh), assessment of cognitive processes (Abramson, Curtin, Davidson, Gooding, Koenigs, Li) developmental perspectives on psychopathology (Abramson, Davidson, Goldsmith, Gooding, Herringa, Pollak, Li), biologically based assessment methods (Curtin, Davidson, Goldsmith, Gooding, Herringa, Koenigs, Pollak, Walsh), machine learning/big data approaches (Curtin), and psychiatric genetics and epigenetics (Davidson, Goldsmith, Li, Pollak) to name some focal areas. A number of the faculty are actively consulting on various assessment / treatment projects (Abramson, Curtin, Davidson, Pollak, Walsh), and/or using psychological research and theory to advance clinical practice (Curtin, Davidson, Gooding, Piper, Walsh) and public policy (Pollak, Walsh). In addition, our clinical faculty have won a disproportionate share of University teaching awards
Practicum Training
Students begin their clinical practicum in the Psychology Department Research and Training Clinic (PRTC) during the second semester of their second year in the context of their coursework: Introduction to Conducting Psychotherapy (807). Students are trained following a generalist model and gain clinical experience working with adults, adolescents, and children from diverse backgrounds and with varied diagnoses.
Following the successful completion of a full clinical year in the PRTC during their third year in the program, students typically apply to a clinical practicum at one of several local mental health agencies or hospitals. Practicum placements may include experiences in traditional outpatient therapy, partial hospitalization / day treatment, health psychology, primary care psychology, neuropsychological assessment, inpatient psychiatric services, substance use / dependence treatment, and other specialty areas.
In addition to community practicum, most students continue to provide therapy and assessment services at the PRTC throughout the remainder of their graduate careers. Finally, all clinical students complete a one-year, full-time clinical experience at an approved internship facility. Historically our students obtain internships at top training centers around the country. However, it should be emphasized that this program is a "best fit" for the student who is deeply committed to research and scholarship and less appropriate for the student planning on a primarily practice-oriented career.
Environment
Our clinical program is situated in a world-class Psychology Department that includes area groups in Biology of Brain and Behavior, Cognition and Cognitive Neuroscience, Developmental, Perception, and Social and Personality. In addition, there is an Emotion Training Program within the Department that cuts across all other area groups and is supported by an NIMH training grant. Many clinical students and faculty are involved in various aspects of the Emotion Training Program.  Clinical students also participate in the LUCID training grant for machine learning and data science. 
Many clinical students avail themselves of the extensive range of opportunities available through collaborations with other units on campus including: the Waisman Center, an interdisciplinary research institute for developmental research; the Institute on Aging; the Waisman Laboratory for Brain Imaging and Behavior; the Department of Psychiatry; and other Departments in the Medical School, College of Letters and Science, and the School of Education. These collaborations support our aim to train scholars who are well-versed in modern, interdisciplinary research in psychopathology.
The department also provides faculty and students with a shared psychophysiology laboratory that is capable of collecting 64 channel EEG as well as other peripheral psychophysiological measures (e.g., startle response, facial EMG). In addition, UW-Madison possesses a well-equipped Biotechnology Center that supports molecular biological and genetic research.
The interests of and methods utilized by our faculty vary widely but all share the common goal of pursuing innovative, cutting edge analyses of major forms of psychopathology. Our program also offers excellent clinical training and opportunities for students to integrate their applied clinical and research activities. Over the course of the program, graduate students develop expertise in both the assessment and treatment of psychopathology.
Commitment to Diversity and Positive Climate
The Department of Psychology is committed to creating an environment in which all students, staff, and faculty are treated with respect and feel included regardless of race, ethnicity, sexual orientation, gender identity, sex, age, religious beliefs, socioeconomic status, or ability; our full statement and call to action can be found here.
A list of popular graduate courses with a focus on diversity topics within the department are here.  Additional information about campus wide diversity resources is also available. The Psychology Department has an active Climate and Diversity Committee who are engaged in various initiatives to support a respective and inclusive environment within the department. The Clinical Psychology Program has made a commitment to increasing diversity among its faculty and graduate students. We recognize that this will require an ongoing effort over years and that our current faculty and student body are not very diverse at this point. Nonetheless, we are striving for this goal through numerous efforts (e.g., Climate and Diversity Committee, yearly Diversity Town Hall and Lecture each spring, sponsorship of the Psychological Research Experience Program, highlighting financial assistance options for under-represented students, focus on invitations to speakers that represent the diversity of the field in departmental colloquium series). We know we are not there yet, but we are trying as a department and a clinical program to improve as much as we can.
Financial Assistance
Students are admitted with five years of tuition remission and stipend.   These financial aid packages typical consist of either a research assistantship, a project assistantship, a teaching assistantship, or a fellowship.  Current pay rates for each type of assistantship can be obtained here. Many of our students are supported by University fellowships. There are numerous types of University fellowships but we wish to emphasize that among them is an Advanced Opportunity Fellowship (AOF) that is reserved for highly qualified underrepresented students.  Furthermore, if the application fee represents a barrier for admission for any applicant, the University offers a fee grant program to assist with application fees. Many of our students are supported by National Research Service Awards (F31 program) from the National Institutes of Health and other competitive extramural fellowships.  Once again, we would like to emphasize NIH has reserved a specific NRSA (F31 – Diversity) for predoctoral students from underrepresented groups in the clinical research workforce.  
CLINICAL FACULTY
Lyn Abramson
Vulnerability and invulnerability to depression; Developmental, cognitive, motivational, and cultural determinants of information processing about the self.
John Curtin
Etiology, assessment, and intervention for alcohol and substance use disorders; Precision mental healthcare; Use of personal sensing (digital phenotyping) and machine learning in digital mental health interventions; Psychophysiology
Richard Davidson
Neural bases of emotion and anxiety and mood disorders; neural, biological and behavioral mechanisms of well-being; interventions to promote well-being; mindfulness-based interventions
Hill Goldsmith
Emotional development; risk and resilience; developmental psychopathology; interplay of genetics and experience; pediatric neuroimaging.
Diane Gooding
Indicators, precursors, and predictors of risk for psychotic disorders; Etiology, assessment, and intervention for schizophrenia-spectrum disorders; social anhedonia; Neurocognitive, psychophysiological, and behavioral studies of individual differences; Developmental psychopathology
Ryan Herringa
Neurodevelopmental mechanisms of risk and resilience to childhood trauma; threat learning and extinction; psychophysiology; biomarker assessment.
Michael Koenigs
Human emotion, social cognition, and decision-making; functional and structural neuroimaging; psychophysiology; forensic psychology.
James Li
Etiology and assessment of child and adolescent externalizing behaviors (ADHD, aggression and antisocial behavior, substance use); developmental psychopathology; genome-wide association methods; polygenic risk prediction; gene-environment interplay.
Megan Piper
Understanding and assessment of tobacco dependence and the cessation process; Treatment development; Health disparities; Regulatory tobacco science.
David Plante
Disorders of central hypersomnolence; physiology of sleepiness; diagnostic evaluation; affective illness
Seth Pollak
Developmental risk (child poverty, child maltreatment); mechanisms of developmental change; experience-dependent learning; stress regulation; children's health; development and evolution of emotion; developmental psychopathology
Kate Walsh
Prevention and intervention programming for sexual violence; posttraumatic stress disorder, substance use disorders, and emotion dysregulation; trauma, violence, and abuse; intergenerational transmission of stress and trauma; women and sexual and gender minority health